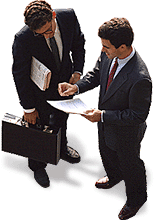 Since 1993 KOMPASS Ukraine has been enjoying the exclusive right to collect business data and distribute KOMPASS products in Ukraine on the basis of the franchise agreement with KOMPASS International Neuenschwander SA, one of the most dynamic international B2B information systems in the world.
KOMPASS system has been operating since 1858.
KOMPASS trademark is registered in more than 100 countries, and in January 1994 by the State Committee for Patents of Ukraine.
The goal of the KOMPASS system is the several click promotion of direct contacts between buyers and suppliers of products and services worldwide.
KOMPASS system is recognized and supported by UNO and its organizations UNIDO, UNCTAD and many other international organizations.
Nowadays KOMPASS provides access to the global KOMPASS database, listing 3 mln. companies from 64 countries at www.kompass.com.
Ukrainian database lists more then 45.000 B2B businesses of Ukraine.
headquarter


KOMPASS UKraine PrivJSC

Postal address: P.O.Box 4337 61166 Kharkiv
UKRAINE
Telephone +380-57-7587830
+380-57-7591266
Fax: +380-57-7587830
+380-57-7591265
E-mail address:office[at]kompass.ua
Website : www.kompass.ua
Office Hours : Mon-Fri 10:00-18:00 hrs